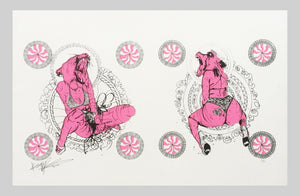 Long before Kelsey started making the starburst mandala and biology based work he is so well known for now, he was creating some very bold and sexually charged imagery in his works.
This is a print that we exhibited at Andenken way back in 2006.  Printed by the super famous Pictures On Walls of London
It's number 12 from an edition of 50
Pencil numbered bottom right
Ink signed bottom left
Pencil signed en verso as well.
It's a 2 colour screen print
58.5 x 38 cm
Kelsey Brookes (American b.1978) 'Hindu Remix' Screen print on colourson paper Signed in pen and numbered from an edition of 50 in pencil Published by Pictures On Walls  ARR

Print is in excellent condition, no tears, bends or creases.